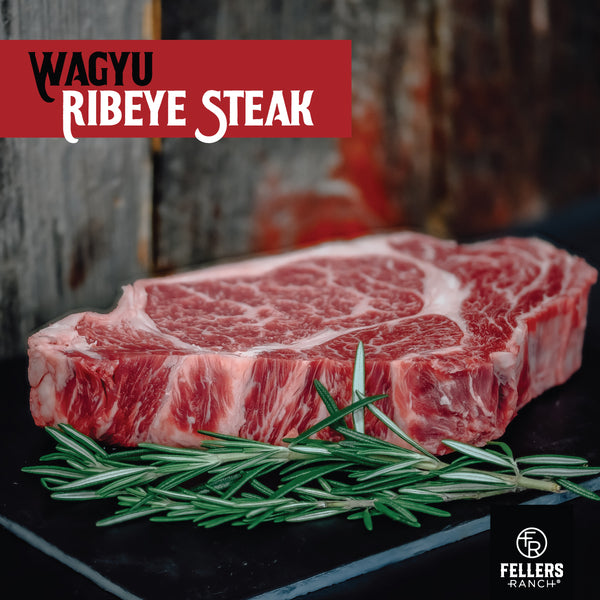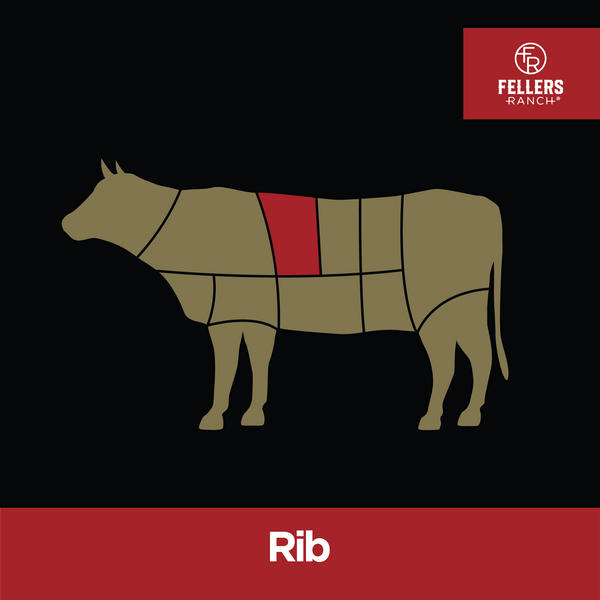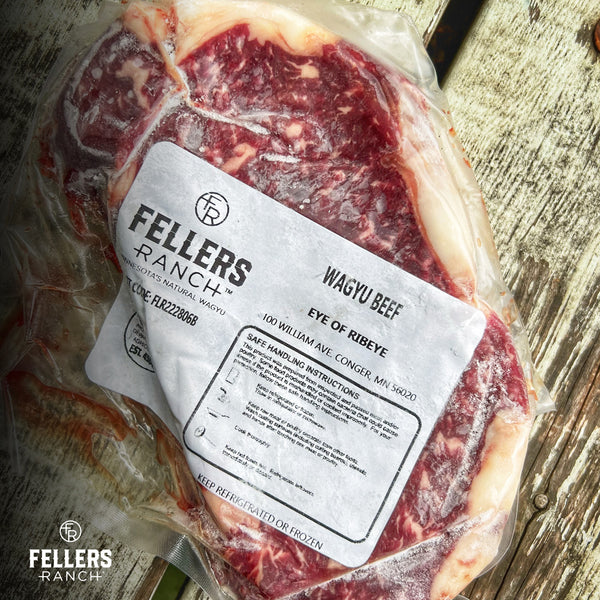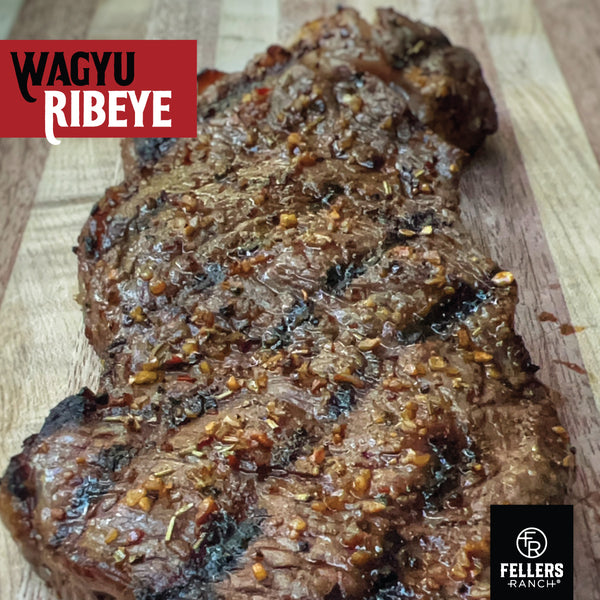 12 oz Premium Wagyu Ribeye Steak | Fellers Ranch® | BMS Score of 6-10 | Minnesota's Finest Wagyu

PRODUCT DESCRIPTION
At Fellers Ranch, we're passionate about delivering our customers the most mouthwatering Wagyu ribeye steaks available. We take great pride in providing cuts that are packed with nutrients like beta carotene and vitamin A - perfect for maintaining a healthy lifestyle! Our 12 oz, one-inch thick pieces of tenderloin will make every meal special. Buy today to experience the unparalleled flavor of homestyle cooking on your plate at home or out grilling up something delicious over an open flame!
PRODUCT BENEFITS 
• The best Wagyu beef in the Midwest
• Raised locally, fed a special diet, then farmed ethically
• Be part of the next big thing in BBQ and cuisine.
• Uncover new potential in your cooking.
HOW TO COOK WAGYU RIBEYE
Nothing beats the flavor of a premium Wagyu ribeye steak cooked to perfection. Pan-searing is an ideal cooking method-- simply heat up your pan or cast iron skillet, and you can whip up this delectable dish that'll have friends and family swooning with delight! Read our wagyu ribeye recipe here. You'll notice the buttery flavors with this wagyu ribeye steak recipe.

Ingredients needed:
2 tablespoons olive oil
12 oz Wagyu Ribeye Steak
Croix Valley Steak Seasoning
1 tablespoon butter
2 garlic cloves
Fresh herbs (rosemary or thyme)
salt and pepper
Before cooking, place your wagyu steak on the counter and leave it until it is room temperature before cooking. This is a good habit to have when cooking steaks in general, as it allows the steak to cook more evenly. To learn more about how to cook the perfect steak, read our recipe.
ABOUT THE BRAND
At Fellers Ranch®, we are proud to bring our local, premium Wagyu beef ribeye to your plate. We strive for excellence in our carefully raised and ethically butchered meat that home cooks across the Midwest can serve up with confidence! Our small-town ranchers provide a care like no other when feeding and nurturing their livestock so you get the best possible dining experience right at home - be it grilling on an outdoor BBQ or cooking something special indoors. Experience unmatched ribeye wagyu flavor today with Fellers Ranch's delicious Wagyu Beef!
Fellers Ranch® is a partnership between a third-generation family farmer, a 75-year-old family-owned (USDA-inspected) artisan butcher shop, and several seasoned ranchers. We are all located in southern Minnesota, and process our meat at the Conger Meat Market in Conger, MN. With cattle raised on a small farm, we can ensure that all of our cattle are specially cared for and have comfortable well-spaced shelter. Authenticity, animal well-being, and the quality of meat are most important to us.
At Fellers Ranch®, we take pride in doing things differently. Our Wagyu cattle are nourished on a premium blend of silage, hay, oats and corn that has been recommended by top nutritionists to ensure the highest quality flavor and texture for our steaks. With extra care given to every cut, you can count on consistently tender steak with marbling at least as high as BMS 6 - making grilling easier & tastier than ever!
Here at Fellers Ranch®, we're proud to provide the premier Wagyu beef experience made possible by our local ranchers. Our passion for perfection starts with each prized cow, whose thirty-month stress-free lives culminate in a 14 day dry aging process that brings out flavor and texture worthy of celebration! We take great pride knowing every cut is born from breeding, calving, raising and farming done locally - no strangers here. Satisfaction guaranteed!
SHIPPING INFORMATION 
Minimum order of $75 is required for online orders. 
Shipping Details
Monday:
We begin our shipping process on Mondays, preparing all online orders for shipping on Tuesdays using Next Day Air UPS Freight. If the order is local then we deliver using our refrigerated van on Wednesdays and Thursdays (see below).
Tuesday:
To ensure the highest quality and freshness of our products, we ship all online orders on Tuesdays using Next Day Air UPS Freight. The packages are shipped with dry ice and ice packs to ensure we are following the FDA's guidelines.
Wednesday:
West side of the Twin Cities? We've got you covered! Our van driver Scott delivers to local restaurants and online orders on Wednesdays. If you live in the west metro, we can provide to you every Wednesday. All orders are delivered in a refrigerated van to ensure freshness.
Thursday:
East side of the Twin Cities? We've also got you covered! We deliver to restaurants and online customer orders on the east side of Twin Cities Thursday. If you live in that area, your order will be delivered by our van driver Scott!
Have questions? Message us on the website or call the Conger Meat Market for information on pickup and delivery.(507) 265-3340
Need product over the weekend?