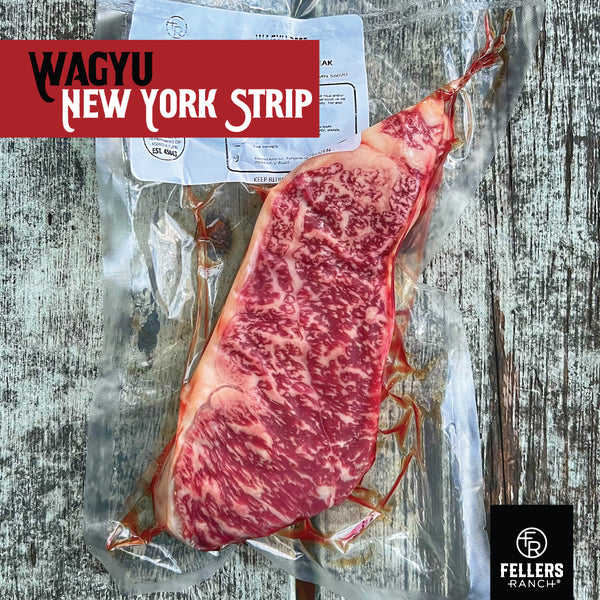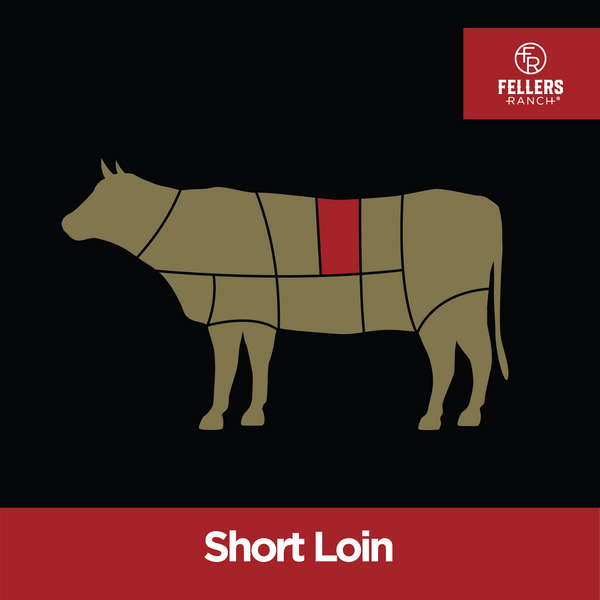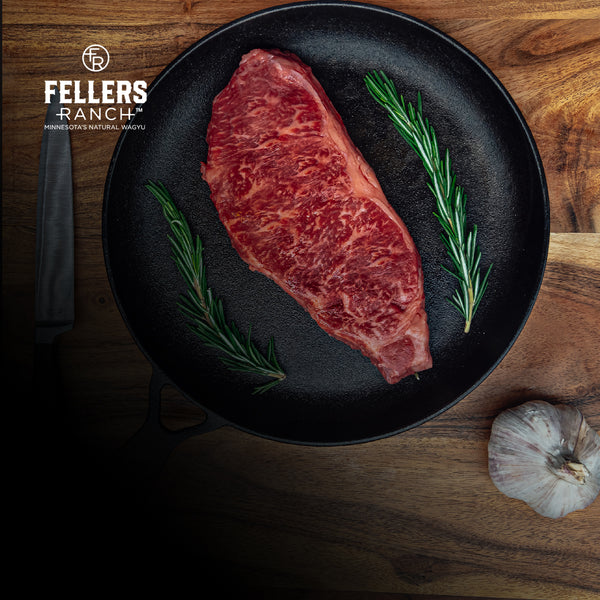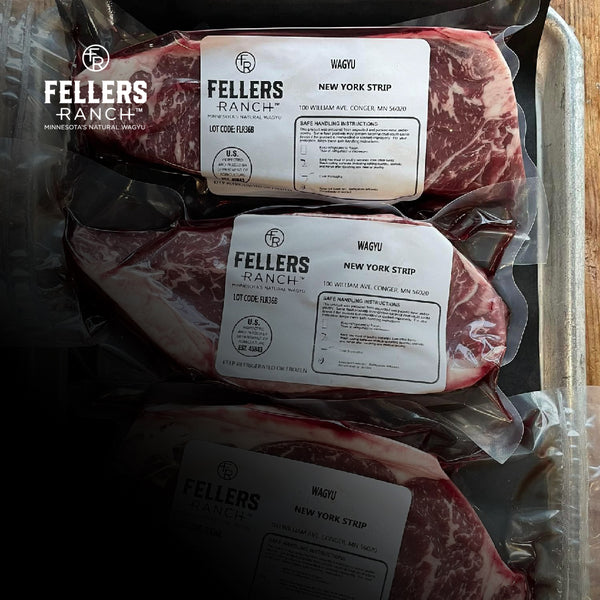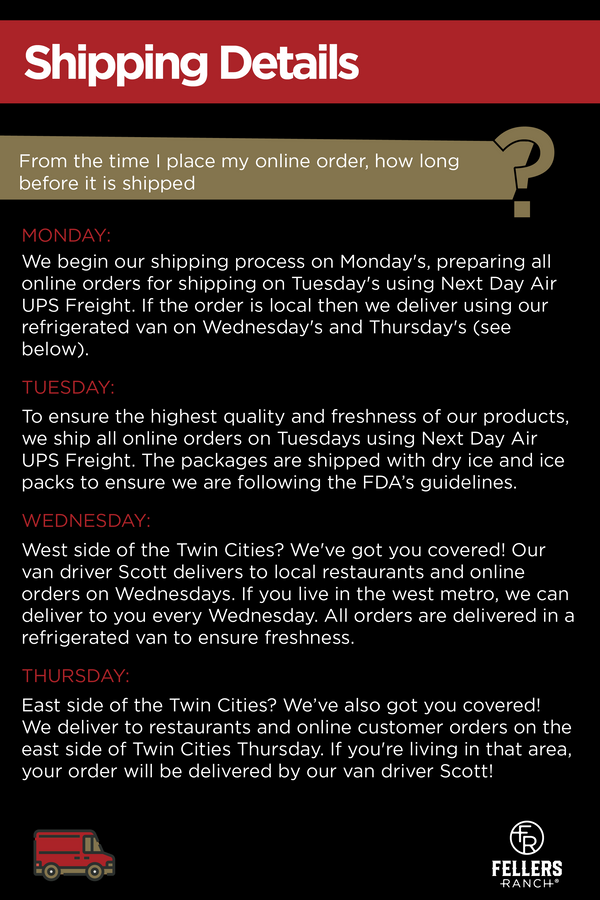 12 oz New York Strip Premium Wagyu Steak | Fellers Ranch® | BMS Score of 6 - 10 | Minnesota's Finest Wagyu
NEW YORK STRIP WAGYU STEAK
Welcome to Fellers Ranch, home of the finest Wagyu beef in the Midwest. Our Wagyu Beef New York Strip Steaks are unrivaled in tenderness and will melt in your mouth with each bite. This is a delicacy that you will never forget.
Indulge in this tender, marbled Wagyu New York Strip steak – the result of a cow's short loin located at its back. This cut of beef is extra juicy and flavorful due to hardly any work it was put through during life on the ranch!
Our Wagyu cows are raised in the local Albert Lea community, and each steak is hand-prepared by the artesian butchers at Conger Meat Market. We take great pride in providing our customers with top-quality meat that is richly marbled and full of flavor. Whether you're grilling for a special occasion or grilling dinner for the entire family, our Fellers Ranch Wagyu New York Strip Steaks will be sure to impress. Order yours today!
WAGYU NEW YORK STRIP RECIPE
Satisfy your inner rancher and impress dinner guests with a full-flavored Wagyu New York Strip! Our recipes blog features this sumptuous steak dish that's sure to tantalize the tastebuds. Mix up shallots, garlic, rosemary, kosher salt and pepper for an unbeatable flavor explosion before locking in those succulent juices by cooking it all up in a cast iron pan or over an open flame - delicious!
WAGYU BEEF PRODUCT BENEFITS 
• Fellers Ranch specializes in top-quality Wagyu beef.
• Cattle are raised for an average of 30 months with high-end genetics and a specialized diet for flavor.
•Fellers Ranch New York Strip Steaks artfully marbled and full of delicate flavor.
• Available at Conger Meat Market, or call (507) 265-3340 to learn more.
• Feel good about eating meat that was raised with the utmost care. 
• You're supporting your local community and family farmers. 
• We control every aspect of the quality process. 
• The animals are raised in a humane way. 
• We never use antibiotics or growth hormones on our farm. 
• The beef is raised with the most modern, low-stress techniques, ensuring a quality product.  
ABOUT THE BRAND
At Fellers Ranch®, we strive to bring you Minnesota's Finest Wagyu Beef with a special local touch. Our partnership between third-generation farmers, experienced ranchers and our 75 year old family owned USDA inspected meat processing facility is the cornerstone of this vision for perfecting flavor. Whether it's grilling or slow cooking, come experience all that our locally sourced Merkouris ranch cattle have to offer - an unforgettable taste crafted in Freeborn County! Make your next meal something truly remarkable today at Fellers Ranch® – where premium quality takes center stage over corporate profits every time.
At Fellers Ranch, we believe in only the best quality when it comes to cooking our Wagyu steaks. Are you a griller who knows how to make savory New York Strip steak with Wagyu beef? Become part of our local influencer program by emailing us at info@fellersranch.com and join a community of passionate home cooks! Use subject line: how to cook Wagyu New York Strip




Have questions? Message us on the website or call the Conger Meat Market for information on pickup and delivery. (507) 265-3340
Need product over the weekend?

Customer Reviews
10/28/2022
Sarah

United States
Incredible Steaks
Incredible, Fellers Ranch! Truly, the best Wagyu I've had. I appreciate locally sourced beef, and Fellers Ranch is just that. I highly recommend.
10/28/2022
Hannah

United States
The Ribeye and New York Strip are perfection
I haven't tasted a bad steak from Fellers. It's SO GOOD!
10/23/2022
Stephen N.

United States
Delicious Wagyu Strip Steak
Ohh my gosh, this is the best-tasting steak I have ever had! This delicious Wagyu strip steak has phenomenal marbling and tenderness. It's a must-have for any dinner party or special event.